Integrations 101: Xero <> Hubspot
To manage your accounting, you have accounting software like Xero. You also have a CRM to manage all your relationships and interactions and to serve as your single source of truth. As a result, you want to make sure whatever details you have in your accounting software system are also in the CRM software. You could do this manually, but this is not something you'll be able to make time for (nor should you).
If you are a founder or CEO or business owner, the above scenario will probably sound familiar. Your goals to secure more business and to build solid relationships with your customers will take a back seat if you try to do these menial tasks.
Enter integrations - designed to prevent you from wasting your time doing these menial tasks and worrying that your systems don't work well together.
At Connect Labs, we love what technology can help you achieve. We also love making sure that your technology works best for you. We do this with two main steps.
Aligning your tools with how you work.

Integrating your tools as much as possible.
If you use Xero and HubSpot, you're in luck. The two systems integrate, so that you can have full visibility of your customers in HubSpot.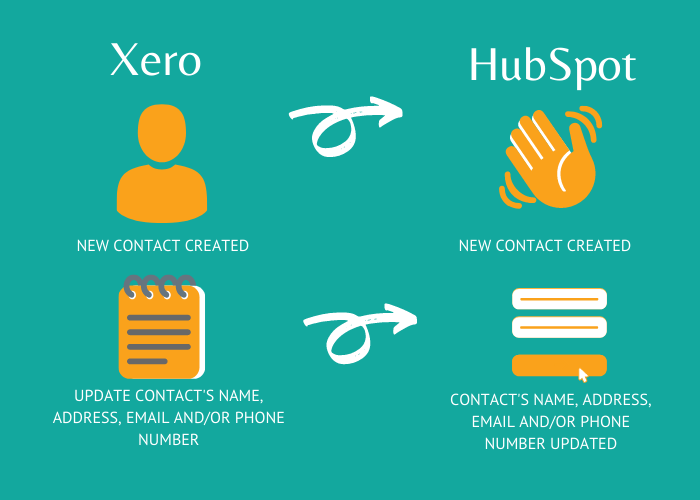 How does it work?
The Xero to HubSpot integration ensures that when you create a contact in Xero, that contact will be created in HubSpot. Additionally, if any details change for your contacts in Xero, those details will automatically be updated in HubSpot.
You can also segment your contacts in HubSpot using your Xero data. For example, you can filter customers that have invoices overdue or haven't purchased from you within a certain amount of time.
To connect HubSpot with Xero, check out these step by step instructions on Xero.
What do I need to make this work?
To integrate Xero and HubSpot, you are need to have a premium Xero account and a free HubSpot CRM subscription.
Are there any caveats I should be aware of?
The purpose of the HubSpot <> Xero integration at the moment is to enhance the visibility you have of your customers in HubSpot and leverage for your sales process. That said, the integration is one way, so while the data flows from Xero to HubSpot, it doesn't flow from HubSpot to Xero. In other words, if you update a contact in HubSpot, it won't update in Xero.
Additionally, the integration covers contacts, but doesn't help your deals or products talk to each other. So, if you create or update products in HubSpot, you'll need to do the same in Xero. Or if an invoice gets paid in Xero, you're not able to trigger a notification in HubSpot.
A great option if you need a more personalised integration, only want to pay a one-off cost and don't want to add any new tools is to get a customised integration.
---
If you are seeking more customised integrations or want help setting up the existing integration with HubSpot and Xero, don't hesitate to get in touch with our team. We work with a number of clients to build customised integrations. Take a look at our integrations and get in touch!