We're always so excited to see the growth and success of our clients because we measure our success based on theirs. We worked with our client, Pan Software, to customise the integration between HubSpot and Zendesk. The main goal was to improve the way their team worked to move opportunities for existing clients and work on their internal and operational processes. This helped ensure increase in productivity, efficiency and deal size for their business.
Setting the Stage
Client: Pan Software
Technology used: Zendesk, HubSpot
How the teams use Zendesk & HubSpot
The sales, marketing, account management teams use HubSpot CRM as their single source of truth and the Marketing Hub is heavily used for marketing, email communications and reporting.
The customer service team uses Zendesk to manage incoming client requests by creating tickets and working through them to ensure that they manage client expectations by tracking activity by each customer service representative.
The Challenge
When a client asks for a specific functionality to integrate or enhance their cloud risk management software, the team at Pan Software captures information as a ticket in Zendesk and use the native integration to map that activity to a contact timeline in HubSpot.

However, the native integration of Zendesk to HubSpot only captures the ticket and what was requested in it. No other details are captured and recorded against certain contact, deal or company properties. The account management team could therefore not map details to an opportunity they discovered while reviewing the account. This meant that they had to add details in HubSpot manually, using up lots of time, energy and making the entire process less productive.
It had become imperative that the account management team could see more details from the Zendesk tickets worked on by the client services team and add this information against HubSpot deals. This would provide meaning to the opportunity in the relevant pipeline and HubSpot could then use the updated properties to automate parts of their manual process.
How We Solved for It
We kicked off this process as we do with every project: a discovery call. We mapped out all the elements of how this would work, so the integration pushes information in Zendesk to HubSpot. We had to work out every little detail that would be required by the account management team to progress opportunities with context carried over from Zendesk.
As their main concern was the inability to see context relevant to opportunities they were pursuing with existing clients, we focused on the deals area in HubSpot. This would then provide value by helping close deals quicker and therefore impact revenue growth.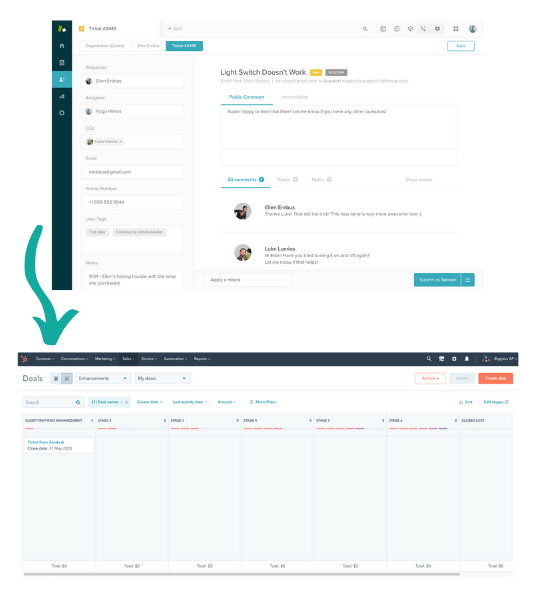 We developed a custom API integration that enabled Zendesk tickets to speak to HubSpot deals. So, whenever a new ticket is created in Zendesk as an 'Improvement' (requested by their client), or an existing ticket is changed to an Improvement request, a deal is created in HubSpot in the appropriate deal pipeline with the deal properties updated accordingly.
We also figured out a way to bring in notes or what is called 'Public reply' from Zendesk to HubSpot, adding more meaning to outreach efforts based on activity performed prior to details being captured in HubSpot. This opened up new ways for the client services team to work well with the account management team.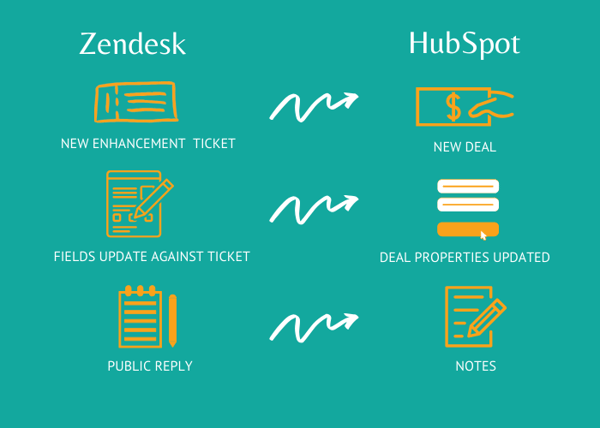 Since we enhanced the existing integration, we've not only seen marked improvements in productivity but also improved collaboration between customer service and account management teams. This makes us feel very confident that when you put people's need before the features of the software you can work on creating pathways to a team's success quite easily.
So it's great to buy software and integrate it but not before you've clearly identified what would change positively for people and how they work.
---