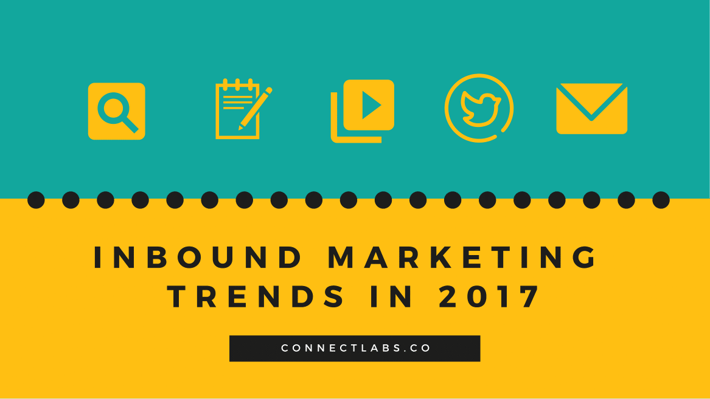 In 2017, inbound marketing will continue to be the most effective marketing strategy in the areas of SEO, content marketing, social media, video marketing and email marketing. We summarised 15 trends in the five areas of inbound marketing based on recent statistics.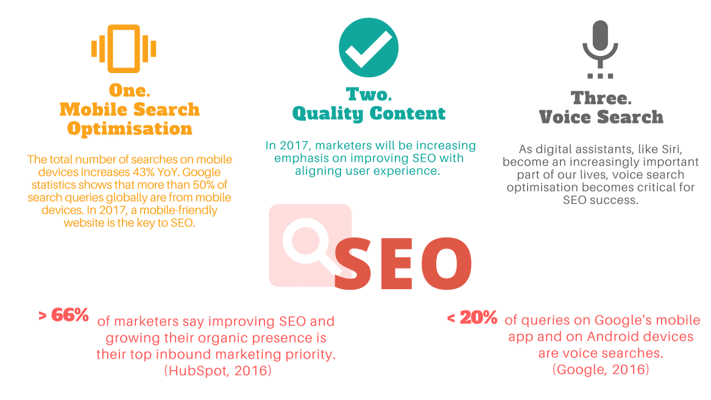 Search engine optimisation (SEO)
Trend #1. Mobile search optimisation
The total number of searches on mobile devices has seen a 43% increase year-over-year. Google's algorithm updates last year ensured that mobile-friendly websites have a favourable ranking on mobile searches. In 2017, a mobile-friendly website is the key to SEO.
Trend #2. Quality content
In 2017, we see marketers' increasing emphasis on improving SEO with aligning user experience. For inbound marketers, understanding your buyer personas and creating high-quality content around the buyer's journey is crucial.
Trend #3. Voice search optimisation
As digital assistants like Siri and Cortana become an increasingly important part of our lives, voice search optimisation becomes critical for SEO success. A survey of 39 SEO experts ranked voice search third for SEO trends for 2017 and beyond.
The statistics
More than 50% of search queries globally now come from mobile devices (Google, 2016)
66% of marketers say improving SEO and growing their organic presence is their top inbound marketing priority (HubSpot, 2016)
20% of queries on Google's mobile app and on Android devices are voice searches (Google, 2016)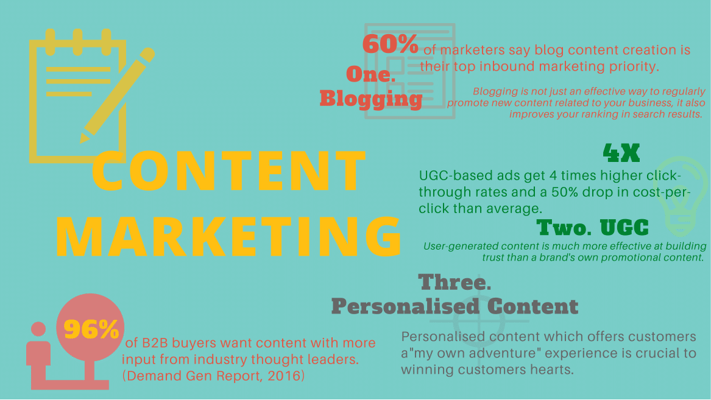 Content marketing
Trend #1. Blogging
In 2017, storytelling will become a key part of content marketing. Blogging is an effective way to regularly publish and promote new content related to your business and industry. By posting blog entries online, marketers can increase their chances of ranking in search results and being shared on social media.
Trend #2. User-generated content (UGC)
85% of people trust content made by others more than they trust brands' content. User-generated content can be social shares, reviews, comments and YouTube videos. It has been shown to be more effective at building trust than a brand's own promotional content.
Trend #3. Personalised content
As content marketing becomes more popular, it's also going to become more competitive. Personalised content which offers customers a 'my own adventure' experience is crucial to winning customers' hearts.
The statistics
60% of marketers say blog content creation is their top inbound marketing priority (HubSpot, 2016)
Ads based on user-generated content get four-times higher click-through rates and a 50% drop in cost-per-clicks than average (Adweek, 2016)
96% of B2B buyers want content with more input from industry thought leaders (Demand Gen Report, 2016)
More than 50% of consumers want a brand to tell them what type of content to create and share, but only 16% of brands actually do (Adweek, 2016)
78% of CMOs think custom content is the future of marketing (Demand Metrics)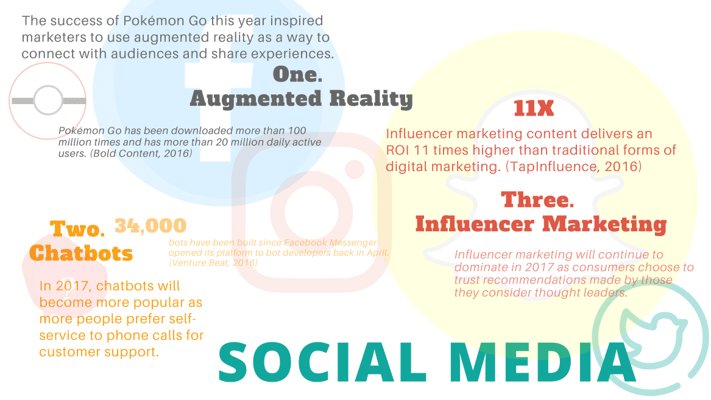 Social media
Trend #1. Virtual and augmented reality
Thanks to the Pokémon Go sensation last year, social media platforms are now getting onboard with the augmented reality trend. Snapchat's filter, Facebook's live filter and Instagram Stories are some of the ways augmented reality is being added to social media.
Trend #2. Chatbots
Websites are increasingly using chatbots to improve customer service by providing a quick and conversational response. In 2017, it will become even more popular as more people prefer self-service to phone calls for customer support.
Trend #3. Influencer marketing
Influencer marketing will continue to dominate in 2017 as consumers choose to trust recommendations made by those they consider thought-leaders.
The statistics
Augmented reality game Pokémon Go has been downloaded more than 100 million times and has more than 20 million daily active users (Bold Content, 2016)
34,000 bots have been built since Facebook Messenger opened its platform to bot developers back in April (Venture Beat, 2016)
In the past two years, content consumption on Facebook has increased 57% (HubSpot, 2016)
Influencer marketing content delivers 11-times higher ROI than traditional forms of digital marketing (TapInfluence study with Nielsen Catalina Solutions, 2016)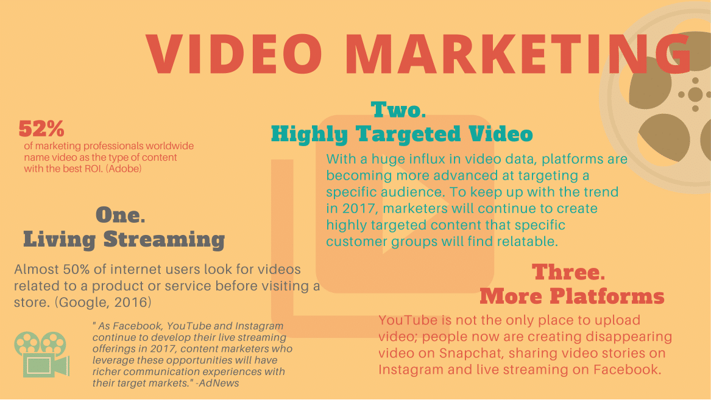 Video marketing
Trend #1. Living streaming video
Real-time streaming brings a new opportunity to marketers to engage with audiences in a more human way. As Facebook, YouTube and Instagram continue to develop their live streaming offerings in 2017, content marketers who leverage these opportunities will have richer communication experiences with their target markets.
Trend #2. Highly targeted video
With a huge influx in video data, platforms are becoming more advanced at targeting a specific audience. To keep up with the trend in 2017, marketers will continue to create highly targeted content that specific customer groups find that it relatable.
Trend #3. More platforms
YouTube is not the only place to upload video; people now are creating disappearing video on SnapChat, sharing video stories on Instagram and live streaming on Facebook.
The statistics
Almost 50% of internet users look for videos related to a product or service before visiting a store (Google, 2016)
100 million hours of video are watched every day on Facebook (TechCrunch, 2016)
Marketers who use video grow revenue 49% faster than non-video users (Aberdeen, 2015)
51.9% of marketing professionals worldwide name video as the type of content with the best ROI (Adobe, 2015)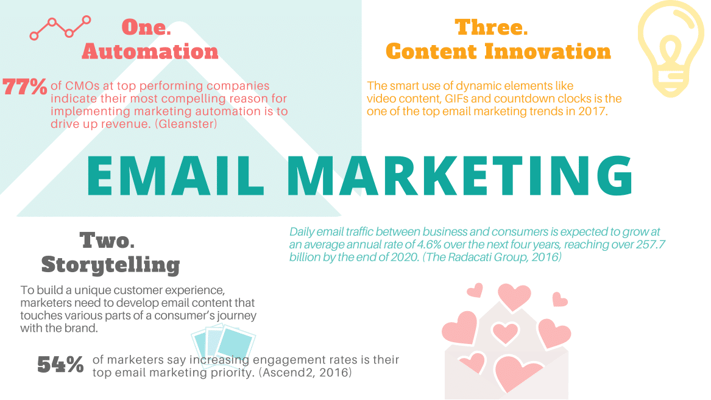 Email marketing
Trend #1. Automation
In 2017, email automation software is expected to not just send automated emails, but to also run workflows, send confirmations and create newsletter sign ups – all personalised with the help of data.
Trend #2. Enhanced customer experience through storytelling
To be an excellent storyteller and build unique customer experience, marketers need to develop email marketing content that touch various parts of a consumer's journey with the brand.
Trend #3. Content innovation
Econsultancy research shows that a greater use of dynamic elements (video, GIFs, countdown clocks, etc.) is one of the top email marketing trends in 2017.
The statistics
54% of marketers say increasing their engagement rate is their top email marketing priority (Ascend2, 2016)
The number of business and consumer emails sent and received per day is expected to grow at an average annual rate of 4.6% over the next four years, reaching over 257.7 billion by the end of 2020 (The Radacati Group, Email Statistics Report, 2016)
77% of CMOs at top-performing companies indicate their most compelling reason for implementing marketing automation is to drive up revenue (Gleanster)
Segmented and targeted emails generate 58% of all revenue (The Direct Marketing Association, 2015)
Three-quarters of companies agree that email offers "excellent" to "good" ROI (Econsultancy, 2016)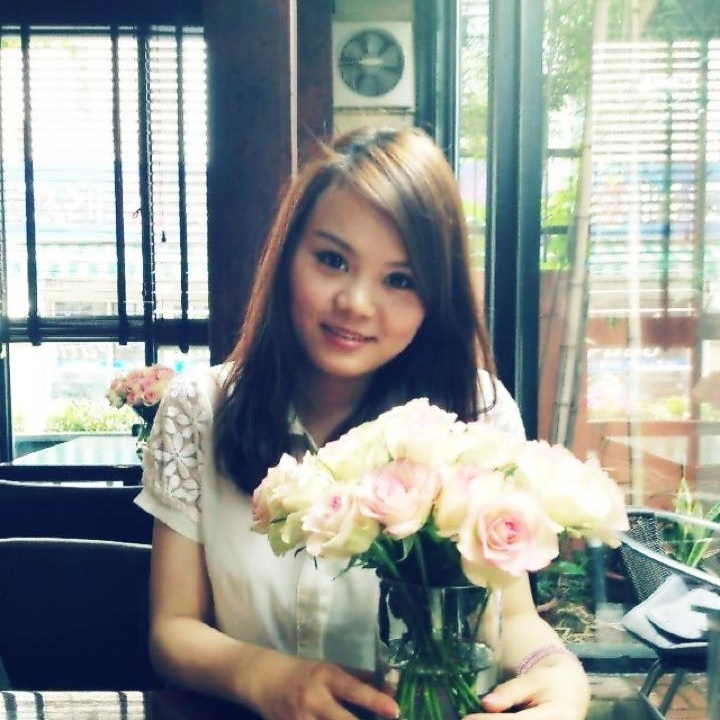 With a marketing background, she is passionate about lead generation and customer engagement using creative inbound methodologies across all digital channels.