The HubSpot CRM Suite gives you the ability to remove manual tasks, automate processes, make data-driven decisions and more importantly improve your operations at scale. In this video, we'll provide a quick tip to help bring your reporting all in one place by using HubSpot's new ability to add external content to your reporting dashboards.
While CRMs do tend to help teams eliminate the use of unnecessary external resources or tools, especially with reporting, sometimes a solid spreadsheet makes the most sense or you want to use a video to explain reports to a client. When this is the case, HubSpot now allows you to embed content in your dashboards, so all your go-to data is in one place.
Watch our HubSpot Tips in 60 Seconds or Less video for a guide on how to use this cool feature!
By incorporating this trick in your reporting, imagine how impressed your boss or client will be when they receive their weekly marketing dashboard with a video update for them embedded in it. Or the amount of time you'll save from opening your HubSpot dashboard and then having to open your Google spreadsheet (especially if you use this trick) - at least enough time to grab a coffee, we bet!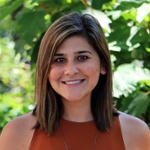 Hi, I'm Court. I'm an Online Experience Strategist and love making sure businesses find success online. I particularly love consulting on the details of how to make something work and remove unnecessary actions from workflows.