The HubSpot CRM Suite gives you the ability to remove manual tasks, automate processes, make data-driven decisions and more importantly improve your operations at scale. In this video, we'll show you how to import brand colours from any website into HubSpot.
Maintaining consistency across all your assets from your website pages to your email templates is crucial for recognisability and building loyalty with your contacts and customers. Your colour scheme is a big part of this.
One of HubSpot's new updates makes it simple for you to import colours from any website. This is especially useful if you don't have an existing brand style guide, and even if you do, it's a handy trick to make your life easier.
Watch our HubSpot Tips video for how import colours into HubSpot yourself. We've included the steps below as well!
Here are the steps to import colours into HubSpot if you could use them:
Navigate to Settings > Account Defaults > Branding
Create a new brand kit or edit an existing brand kit
Navigate to the 'Colours' tab
Click 'Import from external site'
Enter the URL of the page whose colours you'd like to check and wait for the analysis to complete
Indicate which of the identified colours you'd like to set as your brand defaults
Click the "Import" button
Click "Save"
While this is so simple, it could easily save you 10-15 minutes, which is just enough time to instead catch up with a colleague! Enjoy the chat 😉
---
For more HubSpot CRM tips or guidance on how to optimise HubSpot for your organisation and team, don't hesitate to get in touch!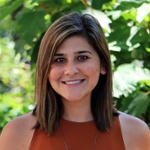 Hi, I'm Court. I'm an Online Experience Strategist and love making sure businesses find success online. I particularly love consulting on the details of how to make something work and remove unnecessary actions from workflows.