To be a successful marketer, it's important to make sure you're across any new and emerging trends in the industry. Marketing events are an excellent way to hear about new ideas, share your experiences and network with others in your field.
Last Thursday 22nd June, Connect Labs had the pleasure of hosting the B2B SaaS Show, where we heard industry experts discuss the future of tech, SaaS and marketing. We've summarised the key takeaways from the event below:
Keys to successful SaaS businesses – Soumya Indurti
Soumya Indurti, Founder and CEO of Connect Labs, kicked off the day by taking us through three keys to achieving SaaS success:
Define your sales and marketing funnel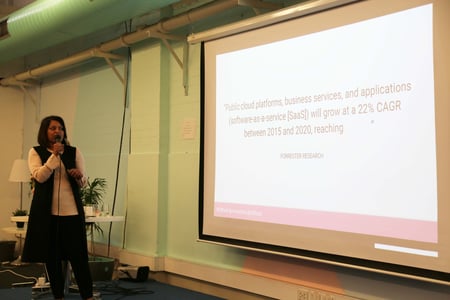 Building and buying SaaS products – Alex Papli
Alex Papli, Business Development Director at State of Matter, took us through the key points of building and buying SaaS products:
Building a SaaS business
His advice for growing SaaS businesses was not to sell your product as a monthly subscription just because it's what most SaaS companies do. If your customers are willing to pay licensing fees upfront, let them. He also warned businesses to be aware of competitors offering platform plays.
Buying SaaS products for your business
When choosing SaaS products for your business, Alex said you should look at your IT stack as a whole – how it will function together and what the overall cost will be. In particular, you should try to minimise the need for integrations as they can be extremely costly.
He also gave some great tips on buying SaaS products:
End of financial year and end of quarters are the best times to negotiate a deal
Long-term contracts often come with good financial incentives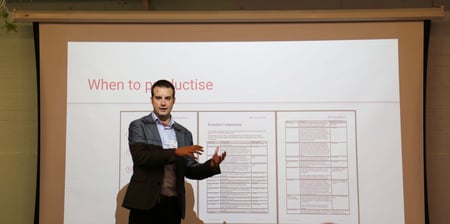 Inbound marketing guide workshop – Jess Stewart
Jess Stewart, Customer Success Manager at Connect Labs, ran an interactive workshop on creating buyer personas and defining your sales and marketing funnel. She explained that getting these right is crucial for business success as they're the foundations for:
Creating an inbound marketing strategy
Creating a sales process
Determining which customers are most valuable to your business
Engaging with customers to increase retention and referrals
Developing new products your customer will love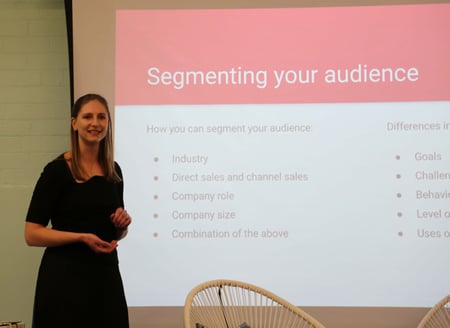 Sales and Marketing Alignment – Kat Warboys
Kat Warboys, Sales Enablement Manager at HubSpot, joined us to discuss the importance of sales and marketing alignment. She shared how implementing a service level agreement (SLA) between the sales and marketing teams at HubSpot has had an enormous impact on their success.
The Sales and Marketing SLA is an agreement that details marketing goals and the sales activities that will follow and support them. Having this shared commitment has helped HubSpot's sales and marketing teams support each other to work towards shared goals.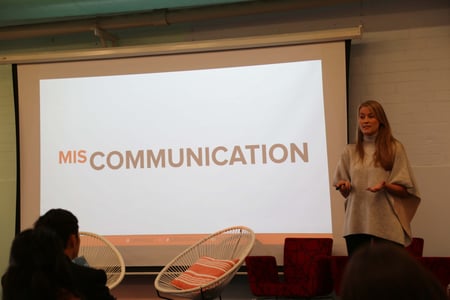 Panel discussion
To round off the day, Soumya moderated a panel on the future of tech, SaaS and marketing. Alex and Kat were joined by Ann Pocock, Marketing Manager at Accenture, and Dan Graziano, Head of Monetisation at SitePoint. Some key points from the discussion were:
Digital marketing is marketing – Ann Pocock
Digital marketing is not different from traditional marketing. The constructs of marketing haven't changed just because we have new digital tools available to us.
Don't underestimate the benefits of blogging – Alex Papli
Blogging isn't only good for marketing and SEO – it also helps sales by demonstrating your capabilities to potential customers. Alex recounted a story of how his company landed a big client as the result of a blog post.
Social media is all about relevance – Dan Graziano
Social media success is determined by how well can you target a lead at the moment when they need something that you can give them – the solution to their problem. It's also about how well can you do that at scale.
Be fearless – Kat Warboys
Kat explained that a lot of HubSpot's success has come because they're not afraid to take risks. They haven't been the last ones to grasp an opportunity or try something different, from new products to new ways of working.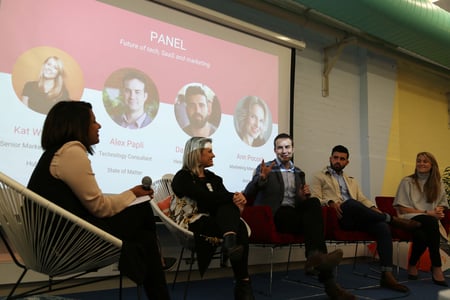 ---
Many thanks to all that attended the B2B SaaS Show, and in particular to all the great speakers who shared some great industry knowledge with us. You can view the live stream of the event on our Facebook page and check out the slides on SlideShare. We look forward to our next event!
---