Introduction
Customer relationship management (CRM) refers to the practices, strategies and technologies that companies use to manage and analyse customer interactions and data throughout the customer lifecycle.
CRMs are designed to compile as much information as possible from across different channels about the customer and company. A good CRM system will map important touchpoints (e.g. your website, telephone, live chat, direct mail, marketing materials and social media) to form a comprehensive understanding of your customer. You can see the history of a contact, including personal information, purchase history, buying preferences and other important details.
It creates a single source of truth, helps improve business relationships with customers, assists in customer retention and drives sales growth. If you have a CRM, it's time to think of how to improve how it works for you, your team and business. If you don't use one, it's time to bring your customer data from darkness to light.
Customer relationship management (CRM) is a technology for managing all your company's relationships and interactions with customers and potential customers.
Chapters
4 things to consider when buying a CRM
Building customer relationships
A business thrives because of one thing - its strong relationship with clients or customers. For a SaaS business, for example, a CRM can help support managing relationships with customers but also see the subscriptions that they have purchased on their buying journey with you so you can use the information to service them better. Having a constant record of how a person has interacted with your brand on different channels and touchpoints can help you sell solutions better as well.
Single source of truth
Having all your contacts in one system will drive efficiency and take away the difficulty of piecing together data that's been collected in a dispersed manner. Even while some businesses use spreadsheets and automation via clever tools like Zapier to move information across tech or disparate systems to make sure the information is up-to-date, the data is still spread out. While there are many disadvantages that come with working this way, the biggest perhaps is that managing and analysing data across multiple systems take time and energy away from working on what makes the customer successful - your product or service. Using a CRM system will also help with team collaboration and increase your ability to grow relationships.
Process before implementation
Without a process, your CRM may fail you. You need to focus on your business strategy, lay out your sales, marketing and customer success efforts and map out activities required to be done by each person across different teams so you can get the CRM system to work for you in the best way possible. Every team might value different details about your customers and companies and those details need to be captured in your CRM in a way that is easy to check and understand. Creating a process first will also allow you identify tasks that you can automate, enabling you to focus more on maintaining customer relationships and staying top of mind with your prospects or customers.
Sales, marketing and ROI
Sales for most businesses breathes revenue into a pipeline and managing this process is key to being profitable, generating more revenue and preventing churn. To do this well, it's important to track how the CRM maps to a sales process. Your CRM should support your sales team in selling as well as collect more information about your potential customers along the way. Having a single source of truth for all the interactions your potential customer has with your brand will also show you what marketing efforts are working best, and help you personalise your customer's journey and provide real value through their lifecycle.
What to look for when buying a CRM
When evaluating any CRM, it's important to evaluate the following features.
Easy to adopt and use across teams
Ability to report on metrics important to your business
Contact management and target accounts
Lead management to grow pipeline
Revenue operations to work on opportunities -> closed revenue
If you need a list of questions to ask, here are a few that we've used to help our clients:
Why are we investing in CRM?
What operational business challenges do we need to solve?
What processes do we lack that we should implement?
How many people do I expect to use the CRM?
How much customer information do we have?
What other software do we use that the CRM should integrate with?
How much budget do I have?
Your CRM options based on your needs
There are many websites to compare all the CRMs available in the market. You can start with looking at your favourite options directly on the vendor's website or go to a well-trusted source like G2Crowd or Capterra to review your options and make the right decision for your business.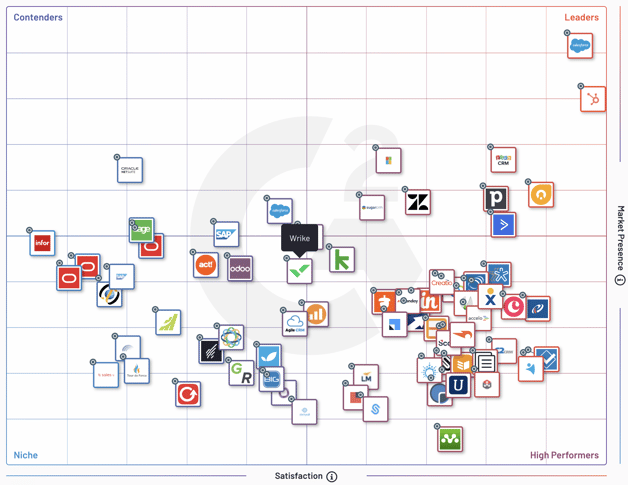 Image: Mid-market CRM grid view of options from G2Crowd
Consider an All-in-One CRM
Getting a CRM that gives you ease of use and provides powerful features at a competitive price point is key to scaling up sustainably. It's super important that the CRM can easily connect with other key business software (e.g., marketing, sales, customer support, etc.)that can help you preserve a single source of truth and create a system to scale.
People are key to using technology and tools for scale. You don't invest in tech before you work on understanding the needs of your people and use their superpowers to map to systems. So, start with understanding the needs of the business, map that to your people superpowers and create value by adding technology to that well-oiled system.
CRMs are a great tool for records, experiences and have the potential to create happiness for those who use it everyday too. So, get your people together and identify what you need to skill up internally, so you can use tech to boost productivity and enhance your employees' experiences.
The more that your CRM can align to your people and processes, the more you'll get done and find success. It's a people thing, always has been. When you put people first and then invest in tech you will see your brand vision come to life with gusto!
Modernise your business with digital solutions.
We're here to help you systemise with ease and scale without the pain.