Australia's leading property advocate, Property Council of Australia, recently launched the largest property research and data project, The Data Room. We're so excited to have a client that advocates and campaign for the industry that generates 1.4 millions jobs a year!

Property Council of Australia is a member-based organisation that champions the various interests of their members. These members are from different sectors of property include property investors, managers, developers, architects and CEOs. So, you can imagine how important current and historic property-related data is for their members!
A few months ago, we were approached to creatively provide Property Council of Australia a solution to their lack of accessible and easily digestible property-related data for their members. At this point, Property Council of Australia had access to high quality data that's continually updated and managed by their Research team but their members only had reports they could purchase and PDF documents they could download. We were challenged and intrigued by this and here's a summary of the challenges faced and how we provided a solution.
Project Details
Challenges
No easily accessible and easily digestible data

Members only had access to PDF documents

Members only had reports they can purchase

No clear area where members can access high quality information

Do not want to use an API but source information natively
Goals & Conditions of Satisfaction
Make Property Council of Australia the "go-to" place for property-related data

Create a engaging and user-friendly platform in HubSpot

Have a back-end where the data can be easily updated and managed

Page load speed has to be drastically better than their current website hosted on IMIS

We have 3 months for the project completed and live for public access

Reward their members by providing more value-added amenities
Our Solution
Interactive data platform with a clean user interface

A custom database with back-end access to easily update and manage data

Data Room website pages hosted on HubSpot

Research blog hosted on HubSpot to keep members updated with latest updates


"We have just launched an amazing new platform on our website providing visitors with access to Australia's most comprehensive source of economic and property related data. Our team worked closely with Connect Labs to turn this massive dataset into an engaging interactive tool on our website. Traffic to the site has exceeded our expectations and feedback has been very positive. We could not have achieved this without an implementation partner of the calibre of Connect Labs. A huge thank you to Connect Labs for their dedication, incredible attention to detail and creative insights into the design of the site."

- Helen Harms,
Head of Innovation and Digital, Property Council of Australia



How we managed this project
1. Project scope
As a team, we (marketers and developers) sat down with Property Council of Australia's IT, Technology and Research team to scope out the project in detail; starting with understanding their project goals, must-haves, cannot-haves, conditions of satisfaction, timelines, team members who will be involved in the project, areas we had freedom to be creative, resources available, technology needed and went all the way through to the project's budget.
2. Project management tools and processes

Gantt charts with weekly Scrum sprints
Our developers used a Gantt chart with weekly sprints to break down the projects into smaller components with more milestones. This was crucial to ensure we could meet the 3-month deadline. The Gantt chart spelt out exactly what was going to be accomplished and who was the owner of each task.
There are many other project management techniques you can deploy but we felt Gantt charts, Scrum sprints and Kanban worked for us best!

So after scoping the project, we locked in weekly Zoom meetings to ensure we got all the right stakeholders involved on regular calls and ran meetings with a clear agenda.
To us, getting feedback and having input from our clients at every step of the project are very important. It helps ensure that the project is heading towards the right direction and that we were able to be agile to our client's needs. We kept our meetings effective with a clear agenda to share their opinion and ideas. Read this article for some project management tips.
We use Trello to manage the progress of our projects and communication with our client. It's a live board where our clients can transparently see what tasks move from To Do, Doing to Done. It's a great way to minimise the amount of email trails and have all our exchange of assets in one area. Best of all, it's free (mostly)!



3. Wireframe, design, feedback, reiterate & repeat
After organising the project into bite-size components that are achievable based on the timeline, the brainstorm of design and user experience begins. We begun wireframing based on certain conditions of satisfactions whilst keeping the website usability and friendliness top of mind.

After wireframing, our designer created mockups of the overall user flow - from start to finish. This step is crucial for us to ensure we get any last minute changes from Property Council of Australia and external feedback before we begin building HubSpot webpage templates and pages.

To develop websites using Growth-Driven Design principles, we always have to keep agility in mind. So we only build the necessary pages to create clickable prototypes and get continuous feedback from a variety of stakeholders. Once we got enough feedback and the "final" approval, we built all the necessary pages for the Data Room.

The best thing about HubSpot CMS is the flexibility it gives me as a marketer. If it wasn't for an incredible content management software, we wouldn't have been able to get through the multiple rounds of iteration without developers involved. This frees up our developers time to focus on more important tasks and add greater value to the project! Here are 5 reasons why you should consider redesigning your website.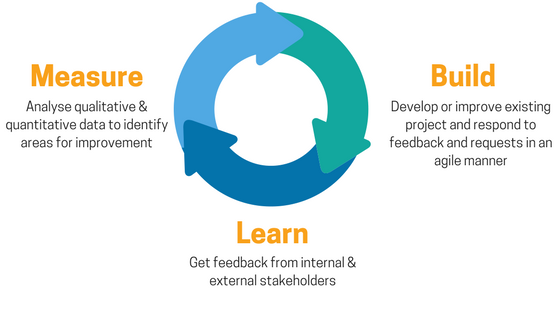 4. Launch
Once we got the final approval, we had a soft launch for the Data Room with Property Council of Australia staff members who provided more feedback. A week later, we finally launched the Data Room with Property Council of Australia's members.
In Growth-Driven Design terms, this is the Launch Pad stage which HubSpot defines as "website that looks and performs better than what you have today, but is not your final product. It is the foundation from which you collect real-user date and optimize". Remember, a good website is a website that's continuously improving. There's no such thing as a perfect website.
The proof is in the pudding!
Post launch, Property Council of Australia's members have shared positive reviews and feedback on about how fun, engaging and user-friendly the interactive data is. Stay tuned with upcoming additional features on the Data Room. Take a look if you have the time, there's lots of data on the property industry.

It's garnered about 35,000 views in the first 2 months of launch and we're progressing to create more success for their supremely capable research team in the coming months. Post launch is when all the real work begins to make this comprehensive property source reach people far and wide.
---
To us, digital strategy is more than just high website traffic and beautiful websites. It's about creating a strategy based on the balancing customer and business' needs, evaluating customer pain points and leveraging digital technology and tools to better support your business goals.

A massive thanks to Property Council of Australia for partnering with Connect Labs for this incredible digital project.

---