Entrepreneurs guide to attract, engage and delight customers online
MARKETING & ENTREPRENEURSHIP
The growing numbers of success stories involving several startups in recent years point to the welcome development and availability of a supportive business ecosystem which, more often than not, is helping first-time entrepreneurs boldly deep dive into their respective business niches with courage and conviction.
Typically, startups face challenges in terms of finding the right mix and depth of strategy and resources while facing off against well established industry majors that are much larger and well known. With limited staff, budgets, and still to come customers, how can startups hope to compete with the big names in their industry segments? They can do this by retuning their weaknesses into strengths and leveraging their intrinsic nimble footedness, flexibility and relatively unorthodox business models.
It is in this context that startups need to recognise marketing as a key competitive arena where they can gradually evolve a unique identity. Marketing undoubtedly provides a platform for emerging companies to establish and qualify their image in the minds of consumers
WHAT IS INBOUND MARKETING?
Inbound marketing refers to marketing activities that bring visitors in, rather than marketeers having to go out to get prospects' attention. Inbound marketing earns the attention of customers, makes the company easy to be found, and draws customers to the website by producing interesting content. Blogging, which a core part of inbound marketing, gives websites 434% more indexed pages and 97% more indexed links. This is very important for Search Engine Optimisation (SEO), which helps you get to the first page of search results and therefore gives your startup more eyeballs.Inbound Marketing has since developed to a comprehensive method known as the Inbound Marketing Methodology. It is a proven way to turn strangers into customers and promoters of your business.
THE INBOUND METHODOLOGY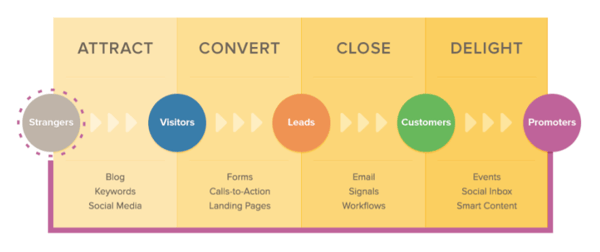 The proven methodology for the digital age
Since 2006, inbound marketing has been the most effective marketing method for doing business online. Instead of the old outbound marketing methods of buying ads, buying email lists, and praying for leads, inbound marketing focuses on creating quality content that pulls people toward your company and product, where they naturally want to be. By aligning the content you publish with your customer's interests, you naturally attract inbound traffic that you can then convert, close, and delight over time. (Source: HubSpot)
As a startup, you want to find ways to attract the right audience to engage with the product/service that you are offering. The Inbound Marketing Methodology lets you do just that.
At Connect Labs, we help you achieve your inbound marketing goals by focusing on the following aspects:
Understand your customer persona
Create content that addresses their problem
Use marketing automation to help achieve goals
Measure your efforts to grow through top-notch analytics
If you have been looking for a solution that grows with your business, it is vital that you find a viable marketing automation tool that helps you convert strangers to customers with ease – measurably and effectively. As Entrepreneurs you are creators and 'creating' needs love and nurturing. So create content that people will love and you will see positive impact on your business growth.