Your website is your salesperson selling your brand/product/services for you 24/7. When was the last time you assessed your website performance?
We work on a model that focuses more the buyer's journey so they can find what they are looking for on the website rather than just fancy design functionality. This means that there is less top-heavy expenditure and more iterative change that maps to ongoing sales and marketing efforts at your company/organisation.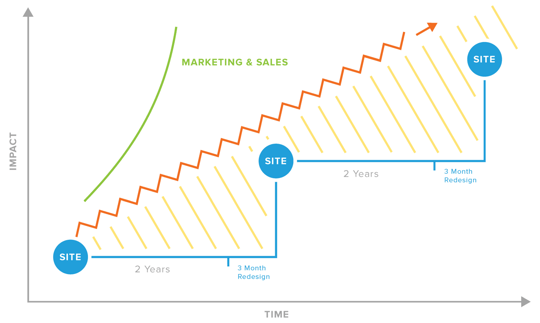 Image: Growth-driven design (along the orange zig zag line) that depicts iterative changes to your website over time.
How we work
Our process revolves around your current state and how we can help you grow to achieve your goals. Through a process of discovery, we set up a strategy to help you get there. The build process will include a project plan, milestones and how to review and measure success. Once done, we will roll out your launch campaign so everyone on the world wide web is familiar with your website and we get more eyeballs to your brand and conversions for your business.

FAQs
How long does a website redesign usually take?
At the very least about 3 months to launch. Some complex development might need more time and therefore timelines will depend on the additional functionality we need to deliver.
Are there any quick wins with websites that we can focus on?
Absolutely! If the goal is to convert more, for example, you could focus just on your landing pages, forms and nurture process to convince visitors to become leads.
How much does it cost?
Website redesign has a lot of different elements like design, development and content management that will influence the pricing. For a brief range they could cost anywhere between $AUD 7k to about $50k or more!
You can always choose to focus on certain functionality as you first start out, post which in phases we can roll out specific features.
Are you more focused on design or performance?
We focus on design that enables performance and often advise clients that they shouldn't look at fancy features over making it easy for your buyer persona to find what they are looking for so you can see business value too!