We've started 2019 on a good note with a new office design, new team members (and the lovely old ones with new resolutions and some #workhappy tips to keep us going! We're listing them out for your reading pleasure.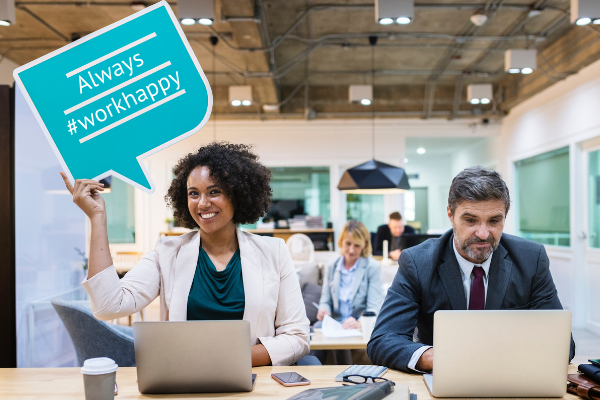 Here's our vision of what it means to #workhappy for ourselves and our clients at Connect Labs:
Logging to one system, not about 6 everyday!
Having hundreds of tabs open is not a sign of productivity or working smart. Try to declutter your screen as much as you can, and maximise your systems (like HubSpot) which pretty much puts your entire business in one view and becomes the single source of truth!
Remember one password only - WHAT!
Once you've set up your tech stack (if you have the HubSpot growth stack there's just one to remember, how cool is that!) and saved all your passwords in a safe place, learn how to set up custom dashboards to track and view all your analytics without having to log into several things. It's that simple to see how much engagement you're getting from various channels, compare them against one-another, and improve on the ones that aren't performing well.
Not wanting to break your keyboard or laptop
Now that you've integrated all your systems into HubSpot, you can actually start doing fun productive stuff on your computer - like writing blogs, e-books and making videos! This makes work more enjoyable because you get to creatively express what you're passionate about - and people respond to passion and positive energy well!
Using content to convert by being nice
With all the great content you've created, spread your knowledge and expertise with creative campaigns and giveaways. Good karma can go a long way - even when you're doing business. Exchange a useful resource for a chance to have a lasting relationship with your contacts, rather than spam them with generic posts that are missing a human touch. Leave people with something they can always remember you by.
When everything just works
...or as we call it, automation! With HubSpot workflows you can set up a series of actions once, and let your leads convert themselves. Now you can actually focus on listening to customer needs and continuously improving in the work you do and deliver.
Helping not selling, so you call with a smile :)

Let's talk about the elephant in the sales room - cold calling! If you're still doing this in 2019 you'll seriously be blocked by everyone and lose their attention altogether. Instead, do not ignore clients who need your help. Pick up the phone to answer questions and solve problems, and hope for some positive reviews and referrals as this goes a long way.
Being successful at work, showing impact
This is your "why"! What makes you come to work every day? Try to set out your personal goals and align them with the work you do. For some, thinking out of the box will be a good way to discover how you can follow your passions in the workplace. Remember, negativity and positive energy are both contagious extremes, so if the work culture is bad, try to step out of the funk and create a positive culture instead which will draw more opportunities and success your way!
---
Top 5 curated #workhappy articles
How does the 20-20-20 rule prevent eye strain?
4 old-school job perks employees still love today
Management tip - calmness counts
10 ways to improve yourself in 10 minutes or less
4 healthy habits for successful remote workers
Feel free to let us know any #workhappy tips you have and what changes lie ahead for your new year. Until next time, take good care of yourselves, and each other!
---