I thought it would be a good idea to start a "Community Spotlight" segment in our blog to talk about the amazing work that's taking place right under our noses, and acknowledge as many Startup Founders, their ventures and the spaces that accomodate and collaborate with them.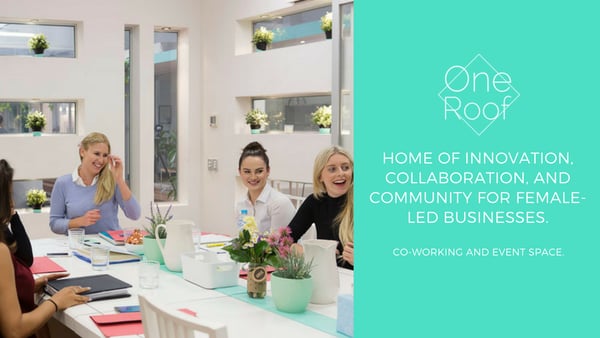 Having recently joined Connect Labs I am learning about all the exciting stories, people and spaces that make up Melbourne's startup community. OneRoof provides co-working spaces targeted to women providing everything a female entrepreneur needs to thrive under one roof.
I started with One Roof because while planning our upcoming event there, I am learning so much about them and looking forward to visiting them next week during the HubSpot for Startups event.
About One Roof:
"One Roof was born from the stark realisation that there is a persisting gender gap in entrepreneurship and that not enough women are starting and succeeding in business. It began as a test. A pop up co-working space in an Airbnb mansion in St Kilda. It was called One Roof to embody the idea of creating a physical hub providing everything a female entrepreneur needs to thrive under One Roof. When 400 people came through the doors in just one week it was clear there was a need for a female focused co-working space. The Founders tested the One Roof concept in Melbourne, Sydney, Los Angeles and NYC until landing on a permanent home and headquarters in Southbank, Melbourne."
When I think about it, Melbourne is extremely fortunate to have a space dedicated to supporting female entrepreneurs. To share a personal reflection on this, I have lived in Southern Africa under a patriarchal society for most of my life and no matter how ambitious a woman is, her ideas can never be fully acknowledged, supported, or surpass the success of a male.
A quote by one of my favourite authors on this in a speech about FEMINISM:
We teach girls to shrink themselves, to make themselves smaller. We say to girls, you can have ambition, but not too much. You should aim to be successful, but not too successful. Otherwise, you would threaten the man. " - Chimamanda Ngozi Adichie
In 2016, I did my Master's Research thesis titled "High Tech and High Heels" which was discussing highly ambitious women and their social-economic empowerment through technology. Even though women now have "equal opportunities" (ahem!) there are still not enough resources and support globally for most female entrepreneurs to succeed. It is therefore rare to find spaces such as One Roof that focus solely on the success of female-led businesses. Here are my top 5 reads (in no particular order) straight out of the One Roof blog:
If you're reading this and like me, have never been to One Roof, let's catch up there? You can also register for a free trial to work from One Roof and learn more about the community.
So why not come by and learn more about growth software that can scale as your business does? Come and learn about it with us while also meeting some of the cool faces (and me) at One Roof!