Every year HubSpot releases its State of Inbound Report which looks at the main priorities and challenges facing marketers and salespeople today. This year's report is the largest yet with 6,399 professionals responding across 141 countries and regions. Australia and New Zealand were the second largest geographic group surveyed!
We've gone through the State of Inbound 2017 and highlighted key findings for the ANZ region.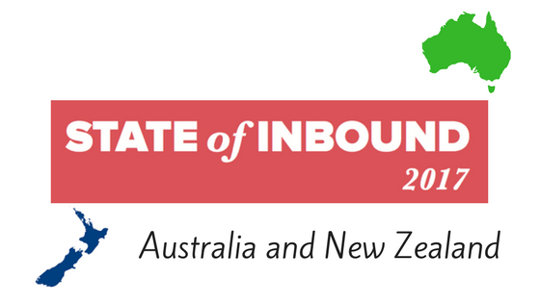 Our region is poised to witness some real change in the coming financial year. Earlier, we highlighted the top trends in 2017 in an infographic and this research supports our findings. HubSpot has been tracking shifts in trends for 8 years to keep up with changing consumer behaviour and ensuring that we're keeping up with them all.
1. 59% of organisations feel their marketing strategy is effective
C-level execs say that their strategy is effective and is getting desired results. An important finding is that most organisations have highlighted the importance of communication and transparency in the business or organisation to be key in driving effectiveness of the strategy.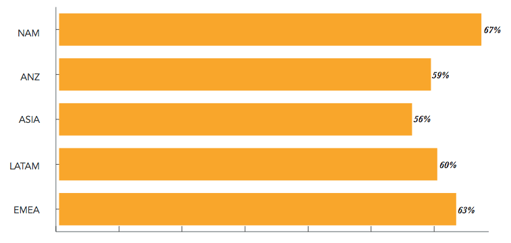 2. Generating traffic and leads top marketing challenge
Generating traffic and leads
Proving the ROI of marketing activities
Securing enough budget
The top challenge for marketers is generating traffic and leads. This indicates a need to focus on buyer personas, SEO, content marketing strategy and content promotion.
3. Converting leads to customers top marketing priorities over next 12 months
Converting contracts/leads to customers
Growing traffic to website
Proving the ROI of marketing activities
The top challenge for marketers is converting leads to customers. This indicates marketing teams are focused on ROI.
4. SEO and Blog content creation remain as top priorities in Inbound Marketing
Growing SEO / organic presence
Blog content creation
Content distribution / amplification
While Google changes its algorithm on searches constantly, it's important to keep yourself up to date on creating relevant and useful information to potential customers. For inbound marketers, SEO and Blogging remain top priorities for growing traffic and being found online.
5. Getting a response from prospects top sales challenge
Getting a response from prospects

Avoiding/discounting negotiation

Identifying/prospecting good leads
Prospecting was identified as the part of the sales process that sales reps struggle with most. This was closely followed by closing a deal.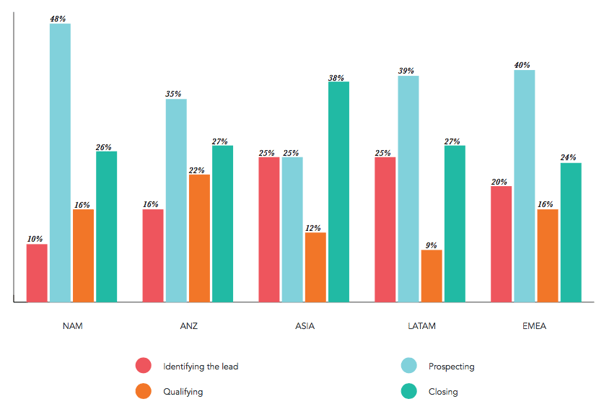 This could be the result of companies not clearly defining each stage in the sales and marketing funnel. It could also indicate a need for greater sales and marketing alignment.
6. Closing deals and improving efficiencies top sales priorities for next 12 months
Closing more deals
Improving the efficiency of sales funnel
Improving existing sales technologies
Not surprisingly, the top sales priority is closing deals. However, without addressing issues with the sales and marketing funnel, and sales and marketing alignment, this will continue to be challenging.
7. Sales and marketing generally aligned
Most companies have indicated that there's a close alignment between their sales and marketing teams. We should aim to be in the blue so we're able to more easily and efficiently convert leads and close deals.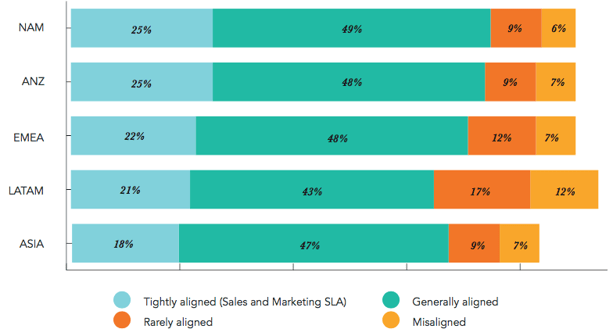 8. Word-of-mouth referrals and customer references most trusted sources of information when making purchase decisions for business software
Word-of-mouth is still the most trusted source of information for people making purchase decisions. Therefore, it's important to build reputation through branding strategies. Exploring ways to build trusted relationships with customers is key to the success of customer acquisition.

9. Preferred methods of business communication
Email and face-to-face remain the preferred methods of business communication, however we're now seeing increased use of newer communication channels such as social media and messaging apps, and expect to see this continue to grow.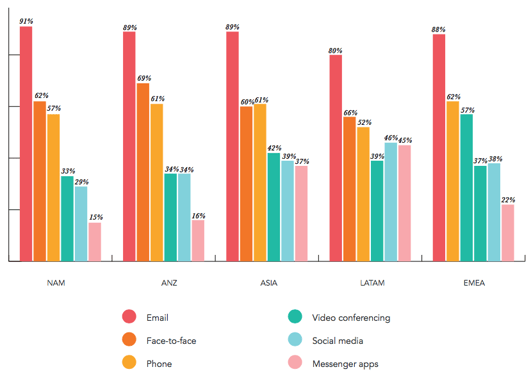 9. Major disruptors in the future
Video
According to the survey, video is ranked as the top disruptor. Live videos in particular have become more popular. People are no longer just satisfied with written content only, videos offer information in a more real and honest way.
We're doing our bit keeping up with video: we're putting out our story on instagram to help our brand come to life.
AI and VR
Artificial intelligence, machine learning, and virtual reality have been hot topics in the digital marketing field. Since these technologies are not very prevalent and there aren't many user cases, it's not very clear how the progression of these technologies will impact marketing. However, it's good to keep an eye on these and prepare for any changes in the future.
Social
People live in social networks and and on digital products nowadays. It's important to be aware of how users interact with businesses on social media, and keep an eye out on new technologies are entering this space.
---
Don't wait and start closing the gal between sales and marketing and close more deals today with a humanised approach and get your upcoming financial year sorted. If you'd like the full report you can access it here: State of Inbound 2017.
---