We're always so excited to see the growth and success of our clients because we measure our success based on theirs. With First National Real Estate, we worked together as a team to increase leads by 71%.
First National Real Estate's engagement with Connect Labs started with refining existing buyer personas and launching their first inbound marketing campaign. Here's how we achieved such impressive results:
Our approach
At Connect Labs, our core focus is to achieve a client's goals using a digital strategy that has measurable tactics. Organisations usually have three main challenges that they need to solve for:
Technology
Marketing
People
In order to achieve business goals, it's vital to review the type of technology that's being used across the sales and marketing funnel. You also need to know who is accountable for results in each part of the funnel.
Understanding the three elements mentioned above allows us to create a digital strategy that connects and converts website visitors into contacts. With First National Real Estate, we started with a review of their setup to fine tune these foundations and get results.
Goal-setting
First National Real Estate is a non-profit, member-driven organisation that works differently from other real estate businesses. While they couldn't compete with realestate.com.au or domain.com.au for property search, their goal was to become a one-stop shop for all property queries.
Other marketing goals included:
Attract more website visitors
Deliver more leads to members
Recruit more members
Challenges
Large number of offices
First National Real Estate deals with over 350 member offices across Australia. Once leads are collected by the National office, they need to be distributed to the correct member office. The benefits of automating this process were significant, but the setup would be quite complex.
Refining buyer personas
While the business understood who their buyer personas were, there was a lot of refining left to do in terms of HubSpot's persona setup. How HubSpot recognises a contact's buyer persona type affects marketing automation. The persona setup needs to be right so that marketing automation is both scalable and enables personalised lead nurturing.
Timeline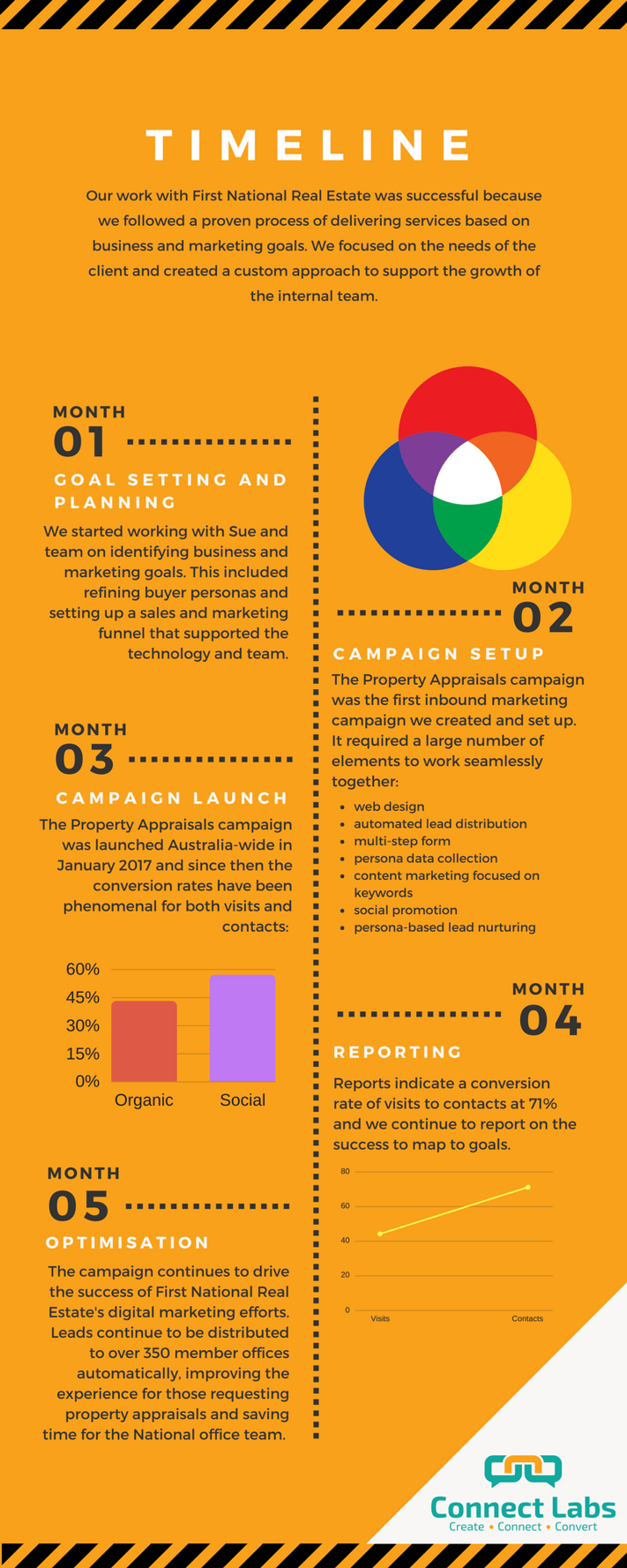 Results in Q1
In the last three months – since the launch of the property appraisal campaign – we've seen a considerable increase in landing page views and conversion rates to new contacts. While paid search is the main driver of traffic and conversions, growth of other channels (Organic: 43% and Social: 57%) are also showing great promise.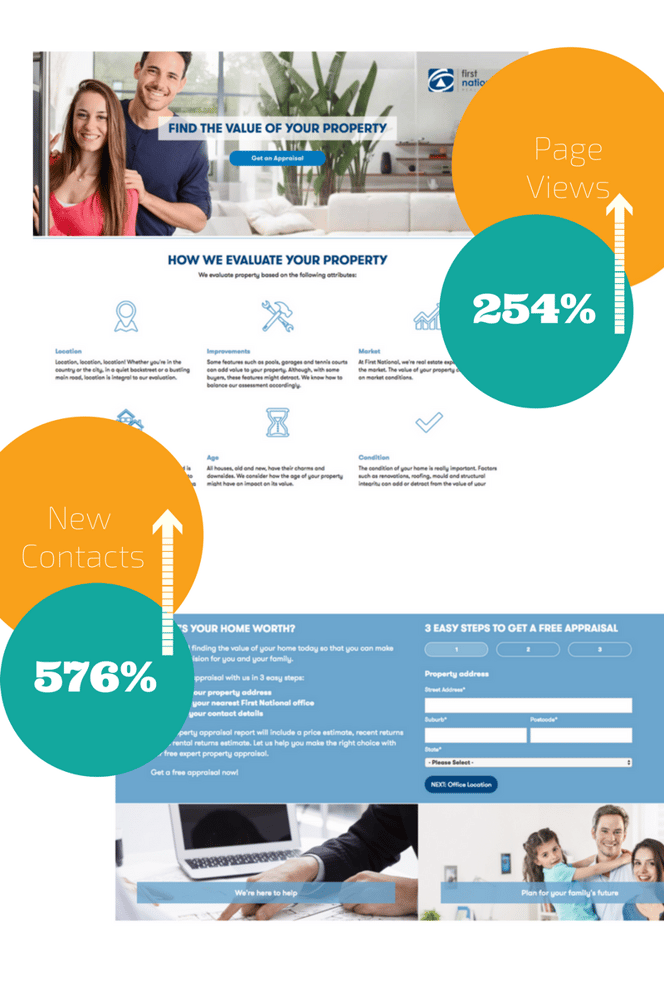 Tips to get your first inbound marketing campaign right
Things that worked with our engagement with First National Real Estate are highlighted below and can help you with any inbound marketing campaign that you're rolling out.
Take a look at your buyer personas
Buyer personas are essential to get right and their buying journey is also very important. Make it easy for each buyer persona to follow their path to conversion. This forms the basis of a high-converting sales and marketing funnel by driving more visitors to move down the funnel, be qualified better and finally convert to a customer.
Understand your sales and marketing funnel
Converting leads isn't the only thing that's important to your business. It's also important to qualify those leads better. Figure out what behaviour helps nurture leads to become sales qualified leads – i.e. ready for a real person to talk to the lead and begin the sales process.
Clarify the value exchange
Understanding the buyer's journey and using ways to help ascertain the value equation will help you get more of the leads you want. How much information is okay to ask for on a form? It depends on the value that you are providing to the person filling out the form. Explain on the landing page what a visitor will get if they fill out the form so the value of the offer is highlighted.
Focus on a business/marketing goal
Have a SMART marketing goal and use all the different digital marketing channels to help achieve them. Don't just think about paid search, for example, think about how organic search, social media and remarketing can help achieve that goal faster. Your inbound marketing campaign is a holistic approach using many channels to achieve a single goal.
---
We continue to work with the team at First National Real Estate and this growth story shows how getting the basics right can really impact business growth.
Read Digital Marketing Manager Sue Goddard's take on HubSpot driving success for her team on CMO Australia