Workflows can help businesses automate lead nurturing processes, complete or improve efficiencies of internal functions and much more. When you combine data-driven insights with creativity, you can increase the scalability of your marketing and sales efforts. Read on to learn of my top 5 workflow hacks to help you save time.

What is a workflow?

As defined by HubSpot, a workflow is a set of actions that happen automatically based on certain starting conditions (aka enrolment criteria) and branching logic.
Workflows are generally used to improve efficiency by automating tedious, time consuming tasks, as well as, to further qualify leads by getting them to take certain actions. Read HubSpot's quick tour of Workflows. Workflows are only available for HubSpot Marketing Pro and Enterprise license. For the intricate details you NEED to know about HubSpot workflows, read this article.

Hack #1: Assign or change HubSpot owners

This is particularly useful when you need to assign certain type of leads to the respective team member based on factors such as industry, company size, geographical location etc.
If you had a two-part sales process, you can create a workflow that allocates all leads to Sales person A but once a lead had performed a certain action then the workflow will automatically change the HubSpot owner to Sales person B.
If you have a sales process that involves various people at different stages of the process, you can use workflows and the appropriate starting conditions to change HubSpot owners. In the example image below, a workflow has been created to automatically change a contact's lifecycle stage to Opportunity and change a contact's HubSpot Owner to Alyssa Yap, based on certain enrolment criteria.
While you are able to do this manually, by leveraging on workflows you can put your time into more pressing and revenue-driving areas. If you are not familiar with setting up workflows in HubSpot, here's a step-by-step guide.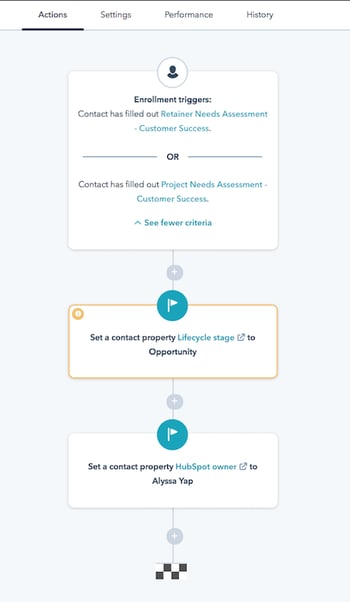 This is really useful if you use the HubSpot CRM for your business. If you've just begun using it, we've put together some tips to get you started - read our blogpost.
Hack #2: Automatically create deals in the right pipeline
Using workflows, you are able to automatically create deals and place them in the right pipeline based on certain enrolment criteria or actions taken. After a lead has taken actions to qualify themselves as a Sales Qualified Lead or an Opportunity by taking certain actions (i.e. completing a form), a workflow can be built to create deals for your sales team to manage.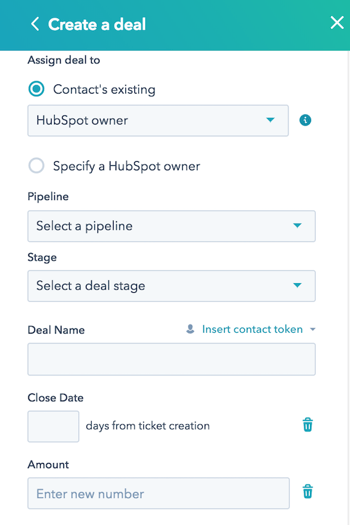 Of course, the deal information can be amended later on to better reflect the deal size and contact and company associations. This workflow cuts on the need to manually create every single deal that comes through the door. All the sales team need to do is update the deal information.
To ensure the HubSpot owner knows they have a new deal associated to them, you can always set the workflow to also send the HubSpot owner an email or internal text message.
Basically how my team and I feel about workflows.

Hack #3: Rotate leads between your sales people
In most businesses, there is a Sales Manager that allocate leads to the relevant members of the sales team. Sometimes it's ad-hoc, sometimes it's a daily occurrence.
By using workflows to rotate leads coming into the pipeline, you avoid manually allocating leads (and potentially using track of leads through long email threads) and ensure the division of leads is fair and equal. With HubSpot, you are able to automatically rotate leads between selected HubSpot owners (aka salesperson) or teams.
If you do not want a 50-50 split, you are also able to change the percentage of leads allocated to the relevant sales people. Let automation tools work for you!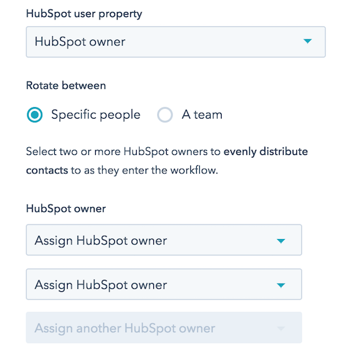 Hack #4: Send SMS text messages from HubSpot
Statistics have shown that SMS text messaging tend to result in higher open rates and conversion rates. It has and will continue to play a vital role in enhancing customer experience and easily improve conversion rates for most industries, whether it is for event reminders, appointment reminders, fundraising or service alerts.
Using Inbound Addons and HubSpot workflows, you are able to send and receive SMS text messages right from within your HubSpot CRM. The service allows you to send and receive SMS text messages from your own dedicated local number. This is currently available only in Australia, the United Kingdom and United States.
The best part of the integration between Inbound Addons and HubSpot is that you can send different SMS text messages based on your segmentation strategy and close-loop the whole customer journey!
Watch the video below to see how the Inbound Addons' webhooks and API work with HubSpot (don't worry, no technical skills needed!).
Hack #5: Update contact and company property values in bulk
Using HubSpot workflows, you are able to copy, add and delete contact and company properties. This functionality is especially useful when you want a certain action to take place in bulk and automatically, based on a certain criteria.

For example, you can use workflows to do tasks like copying content from "Mobile Phone Number" to "Phone Number" or changing state names to their abbreviated state names. If you have a huge database, you will save hours instead of doing this manually!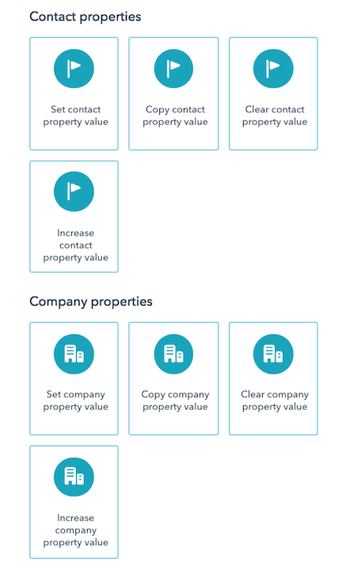 Whether you are using HubSpot or other softwares, I highly encourage you to leverage on marketing automation softwares to save time and effort spent on mundane, tedious (yet crucial) day-to-day tasks. Just remember - the key to having effective workflows is to have a clear goal and to test, test and test before going live.
---
Interested in using HubSpot workflows to improve both your customers' online experience and employees productivity? Book a time with Connect Labs today.